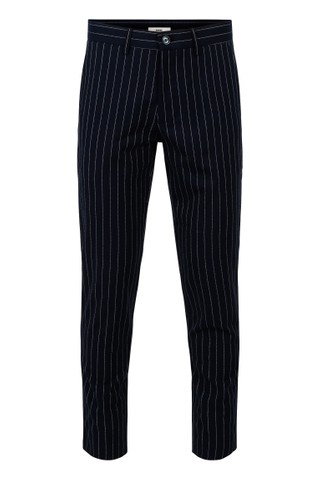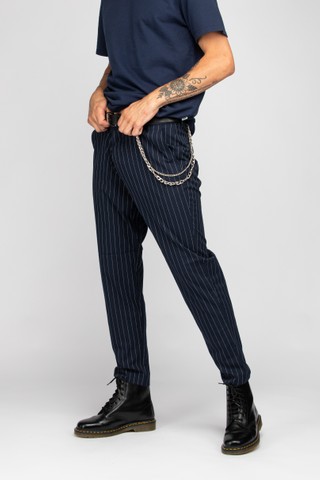 Piedro Pinstripe Pants Dark Navy
Out of stock
Thank you for joining the waiting list!
You're already signed up for the waiting list. We'll notify you when we have more in stock!
Description

Al Pacino. The Godfather. Enough said. The perfect pants for either a sharp or a casual look - whatever your mood. Style it with the Tor Box Tee, the Jan Bomber jacket and the Fritjof Beanie for a look that's got you covered. Pants are slightly shorter than what you might be used to. We did this on purpose so you can either wear it barefoot, or show your socks.

The model is wearing size M, is 189cm tall and wears 32x34 in jeans.

64% polyester, 34% viscose, 2% spandex

What if it doesn't fit me?

We offer 100% free returns, as we know it can be difficult to know your exact size when buying online. If you find out it it doesn't fit, send it back to us free of charge and we'll return you your money in a few days. No questions asked.
| | XS/46 | S/48 | M/50 | L/52 | XL/54 | XXL/56 | 58 | 60 |
| --- | --- | --- | --- | --- | --- | --- | --- | --- |
| A-Height (cm) | 172-175 | 176-179 | 180-183 | 184-187 | 188-191 | 188-191 | 188- | 188- |
| B-Chest (cm) | 88 | 94 | 100 | 106 | 112 | 118 | 124 | 130 |
| C-Waist (cm) | 74 | 80 | 86 | 92 | 98 | 104 | 110 | 116 |
| D-Hip (cm) | 88 | 94 | 100 | 106 | 112 | 118 | 124 | 130 |
| E-Inseam (cm) | 79 | 81 | 83 | 85 | 87 | 89 | 91 | 93 |
See how we made these pants